PEOPLE
VISION | PEOPLE: Residents enjoy equitable access to necessary and appropriate educational opportunities (for all ages) and high quality health care. There are ample facilities and resources available to help improve nutrition, to provide well-care, and to support active living. There is less crime, calmer traffic, and improved law enforcement relationships. Employment and workforce resources are available to train the next generation of workers and to help residents find high-quality jobs matching their skill sets.
Who Calls Cleveland Ave Home?
Neighbors
The Transformation planning area extends from E 14th Street to just north of NE 21st Street, and from Route 52 to Locust Avenue
Young People
Did you know the median age of a Cleveland Ave resident is 23.3 years? The average age in Forsyth County is 38.
Families
Did you know 15% of the residents of Cleveland Ave are age four or younger?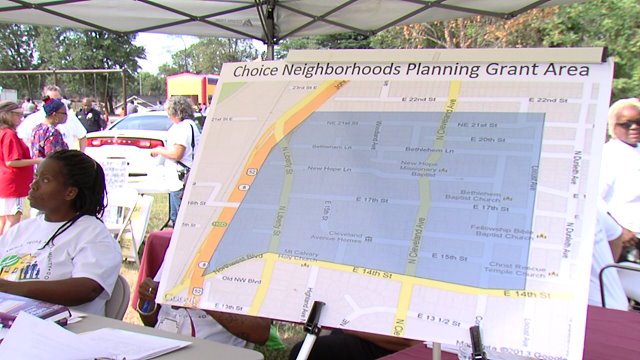 In June 2016 the Housing Authority of Winston Salem (HAWS) submitted their grant application for the Choice Neighborhoods Implementation Grant, a grant that supports communities that have undergone a comprehensive local planning process and are ready to implement their "Transformation Plan" to redevelop the neighborhood.  Applications must present a plan to revitalize a severely distressed public and/or HUD-assisted multifamily housing project located in a distressed neighborhood into a viable, mixed-income community. HUD announced approximately $120 million available for awards. Thirty four eligible applicants submitted applications including public housing authorities, local governments, nonprofits, tribal entities and for-profit... read more
The Good News
The people of Cleveland Avenue Neighborhood are caring, creative, and hard-working. Their passion for their neighborhood – and their neighbors – is the area's strongest asset, and there is no better way to start a Transformation Plan than by harnessing that passion.
The Bad News
There are barriers of all kinds placed on the residents of our neighborhood. Lack of options, lack of opportunity, lack of safety, and lack of quality housing are just a few. To truly improve the lives of those who live here, no one strategy or solution will ever be enough. It will take hard work and sacrifice to overcome these barriers. But with that hard work can come transformative results.
What We Are Going to Do About It
Goals and strategies in the plan's People thematic area are focused on several topics: Education, Safety & Security, Health, and Workforce Development. Click on each topic area in the menu above to learn more about what is working, what isn't, and the actions necessary to transform Cleveland Ave.