Neighborhood
VISION | NEIGHBORHOOD: The Cleveland Avenue Neighborhood is safe, clean, well-maintained, and well-connected to the larger Winston-Salem region. Residents and visitors have access to a full range of community amenities. The neighborhood has ample green space and public recreation facilities. Reliable multimodal transportation options are widely available.
---
Who Calls Cleveland Avenue Home?
Neighbors
The Transformation planning area extends from E 14th Street to just north of NE 21st Street, and from Route 52 to Locust Avenue
Families
Did you know the median age of a Cleveland Avenue resident is 23.3 years? The average age in Forsyth County is 38.
Children
Did you that 15% of the residents of Cleveland Ave are age four or younger?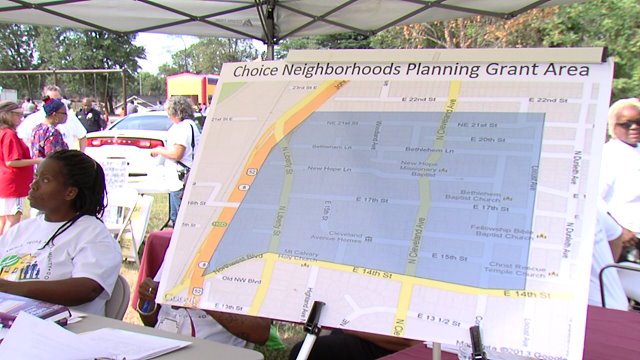 In June 2016 the Housing Authority of Winston Salem (HAWS) submitted their grant application for the Choice Neighborhoods Implementation Grant, a grant that supports communities that have undergone a comprehensive local planning process and are ready to implement their "Transformation Plan" to redevelop the neighborhood.  Applications must present a plan to revitalize a severely distressed public and/or HUD-assisted multifamily housing project located in a distressed neighborhood into a viable, mixed-income community. HUD announced approximately $120 million available for awards. Thirty four eligible applicants submitted applications including public housing authorities, local governments, nonprofits, tribal entities and for-profit... read more
The Good News
There are many assets and opportunities throughout the neighborhood. Identifying and harnessing those assets, and knocking down the barriers placed in front of the people of the Cleveland Avenue Neighborhood, is at the heart of this Transformation Plan
The Bad News
The neighborhood has deficiencies in infrastructure, transportation, and many of the hallmarks of livability. These deficiencies put limitations on the ability for residents to achieve their dreams.
What We Are Going to To About It
Strategies and actions will be focused on several topics: Infrastructure, Transportation, and Livability. Click on each topic area in the banner above to learn more about what is working, what isn't, and what we intend to do about it.