Housing
Transforming the Cleveland Ave Neighborhood through re-envisioned and reconstructed housing
Proposed Phase I Housing Plan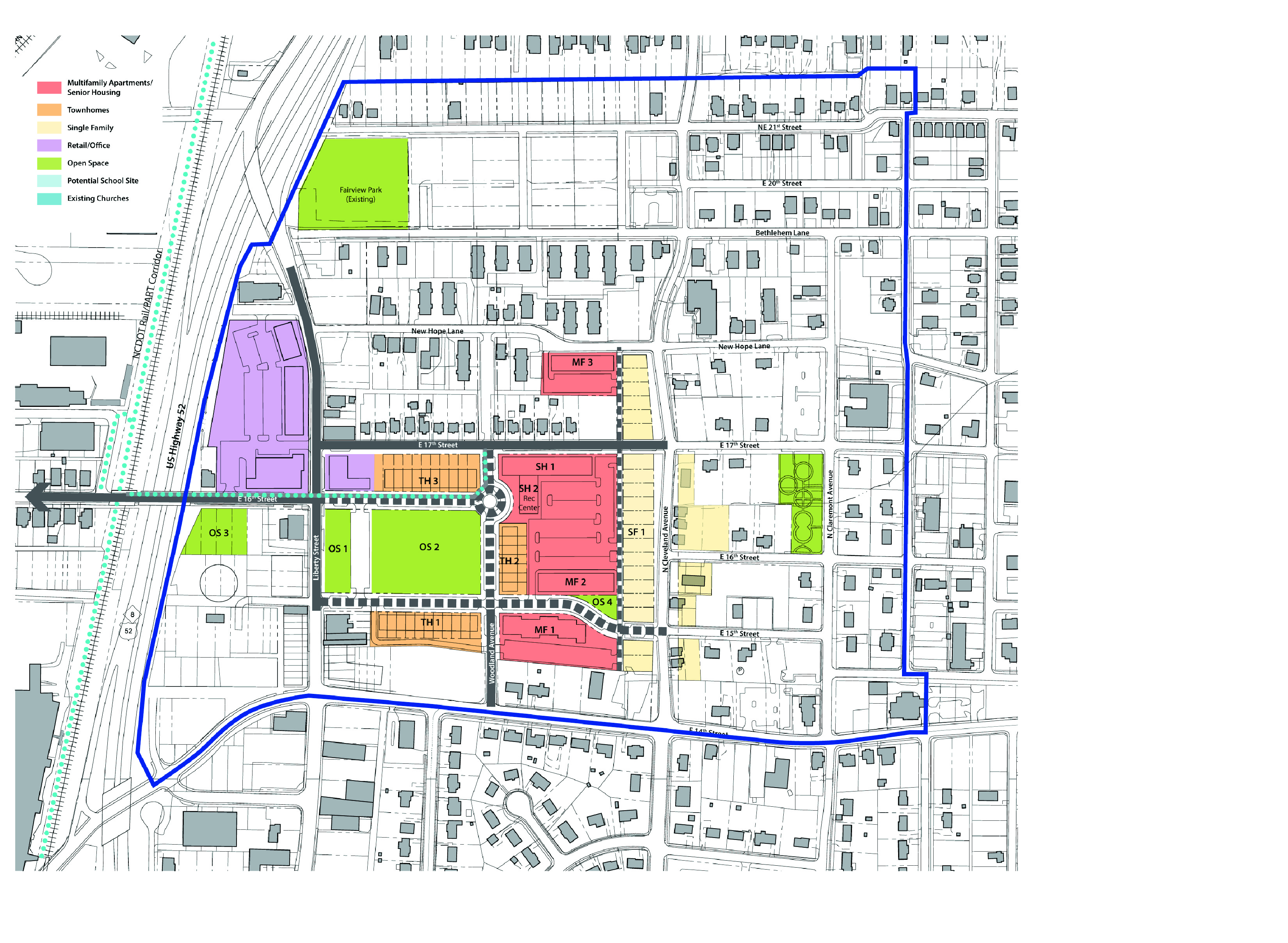 HOUSING PLAN: PHASING
---
The first phases of the East Winston neighborhood transformation process have already begun with the development of The Oaks at 10th (a 50-unit apartment community approximately 1/3 mile from Cleveland Avenue Homes) and Camden Station (a 30-unit apartment community less than 1/4 mile from Cleveland Avenue Homes). The Cleveland redevelopment and the Crystal Towers rehabilitation are proposed to be undertaken in parallel with the Brown School and New Hope/Bethlehem projects. The 4.5 acres Brown School site (on Highland Avenue between 11th and 12th) was purchased by HAWS with the intent of building up to 100 units of additional housing. HAWS has also secured funding for the purchase of the 4.0 acre New Hope Manor west of Cleveland Avenue and south of Bethlehem Avenue, which is a key acquisition in implementing the housing strategy that will be redeveloped in conjunction with some other publically owned parcels.
The housing strategy for the New Hope/Bethlehem area is part of a current effort to repurpose the large amount of vacant land in the area. There is approximately 10 acres of publically owned land in the immediate area. HAWS has commenced conceptual design and interagency discussions with Winston Salem/Forsyth County Schools and the City of Winston-Salem on the siting of a new elementary school in that area. HAWS plans to build 272 new mixed income housing units in the area of the new school. The school funding and the new housing units are anticipated to be completed within five years.
If awarded Choice Neighborhoods implementation funds, HAWS will be able to orchestrate a multi-project investment program that will constitute a foundational event for the next 50 to 100 years of neighborhood transformation. The result of these investments will result in an increase in public and market rate housing.
The first phase of investment will be working to bring online the Brown School development, the Cleveland redevelopment and the Crystal Tower rehabilitation. The second phase will be the Bethlehem/New Hope redevelopment, which includes the new elementary school site.
Proposed Phase II Housing Plan